TV/Film Portfolio—Blue Skies Under Grey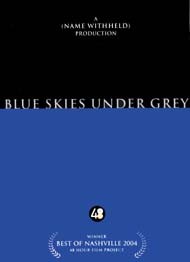 Project Description
2004 Best Sound Design (Happen-Stance Productions)
2004 Best Musical Score (Roland Mains)

"We rocked Nashville with 8 awards, including Best Overall Film. That means "Blue Skies Under Grey" will be representing Nashville in the International competition and will be on the official 48 Hour Film Project DVD next year.
It was truly a team effort and I couldn't be more proud."
-Scott Jackson (Producer - Name Withheld Productions)
The awards won were: Best Sound Design, Best Supporting Actor
(J.D. Parker), First Runner Up Best Screenplay, First Runner up Best
Director, Best Wardrobe, Best Cinematography, and Best Musical Score.